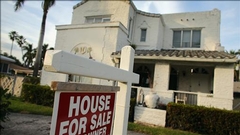 U.S. home prices rose in January from a year earlier, registering the biggest increase since the summer of 2006, according to Standard & Poor's Case-Shiller home-price indexes. U.S. home prices rose in January from a year earlier, registering the biggest increase since the summer of 2006. Nick Timiraos reports on Markets Hub. On a year-on-year basis, the 20-city index improved 8.1%, above recent expectations of economists polled by Thomson Reuters for a rise of 7.9%. "This marks the highest increase since the housing bubble burst," said David Blitzer, chairman of S&P's index committee. The 10-city index grew 7.3% year over year. The Case-Shiller index of 10 major metropolitan areas was up 0.2% in January from December, while the 20-city index increased 0.1%. On a seasonally adjusted basis, the indexes both rose 1%.
Low mortgage rates, a reduction in foreclosures and a shrinking inventory of homes on the market—along with an improving economy—have been supporting a gradual housing-market recovery.
Still, the two indexes remained about 30% below their June/July 2006 peaks through January.
On a year-on-year basis, 20 cities recorded growth in home prices, with eight posting double-digit increases on a percentage basis. All the cities in the index except Detroit recorded a stronger pace of year-on-year price increases for the month. Meanwhile, New York-area home prices turned slightly higher, up 0.6%, after declining for 28 consecutive months.
Markets that were hard hit by the housing bust have been among those with the strongest growth lately. Phoenix posted the biggest increase in January, at 23%. Las Vegas home prices were up 15%.
Though closely followed by economists and the markets, the Case-Shiller index is a lagging indicator of values—a moving average now two months old.
Separately, the number of new homes listed for sale in the U.S. rose last month, a sign that builders are boosting construction to meet increasing demand.
At the end of February, there were 152,000 homes listed for sale, adjusted for seasonal factors, which is the most since November 2011, the Commerce Department said. Sales of new homes, meanwhile, fell 4.6% in February after surging the prior month.
The data showed 411,000 homes were sold last month, nearly matching expectations. Economists surveyed by Dow Jones Newswires forecast an annualized sales rate would fall to 415,000 in February.
Many economists believe housing will be one of the main economic drivers this year as prices rise, more homes are sold and builders break ground on new projects.
In a survey published last week, home builders said they were seeing stronger demand from potential buyers. Still, they said they were discouraged by a lack of land available, rising costs for building materials and tightened credit conditions that can make it difficult for potential home buyers to secure a mortgage.
Tuesday's data showed the median price for a new home sold in February was $246,800, up 2.9% from a year ago.
Despite the upward trend, home sales remain well below historical levels. New-home sales peaked in July 2005, when they hit an annualized pace of nearly 1.4 million, and declined to a low of 273,000 in February 2011.
New-home sales in February fell in three of the four areas of the country, rising only in the Midwest.
Wall Street Journal By Tess Stynes